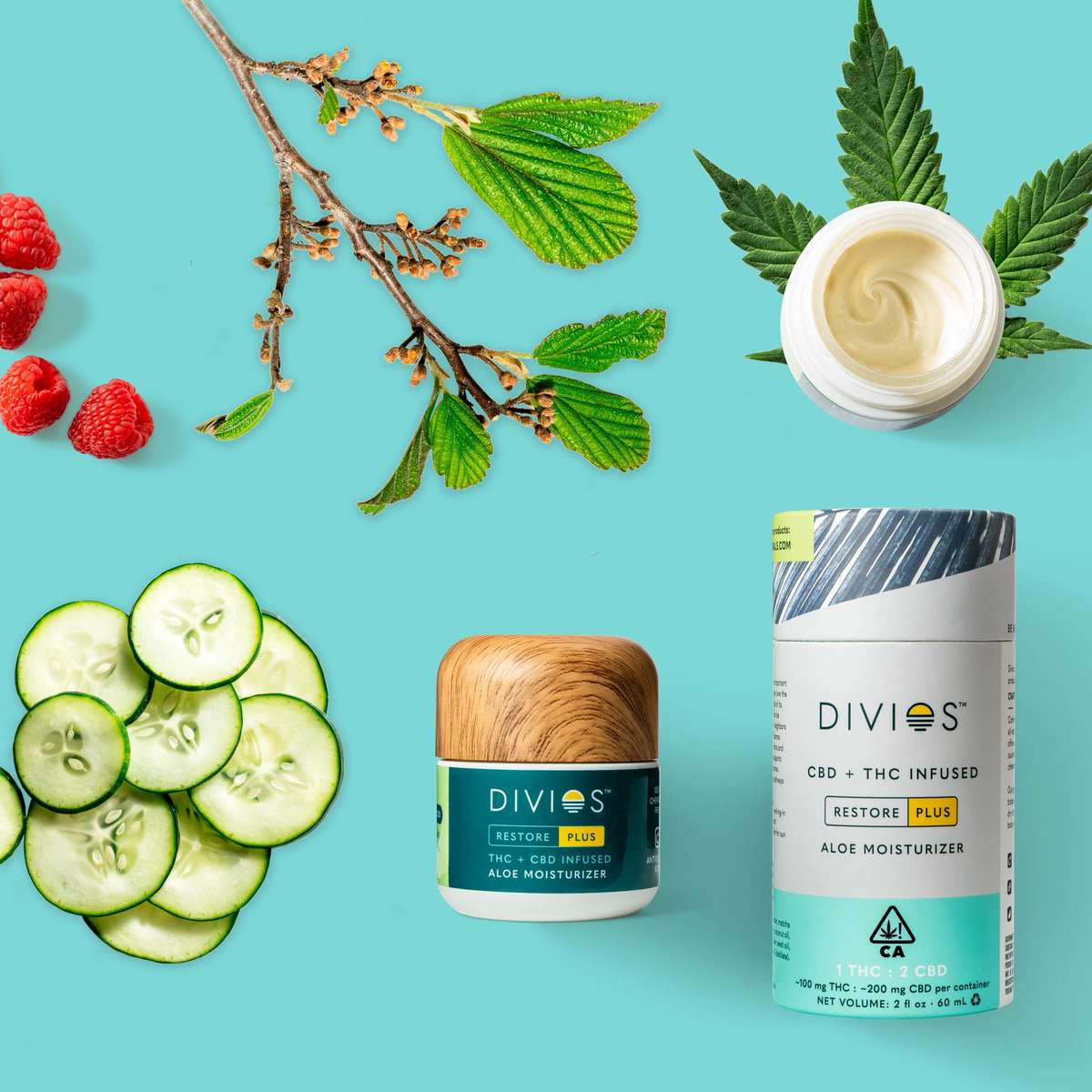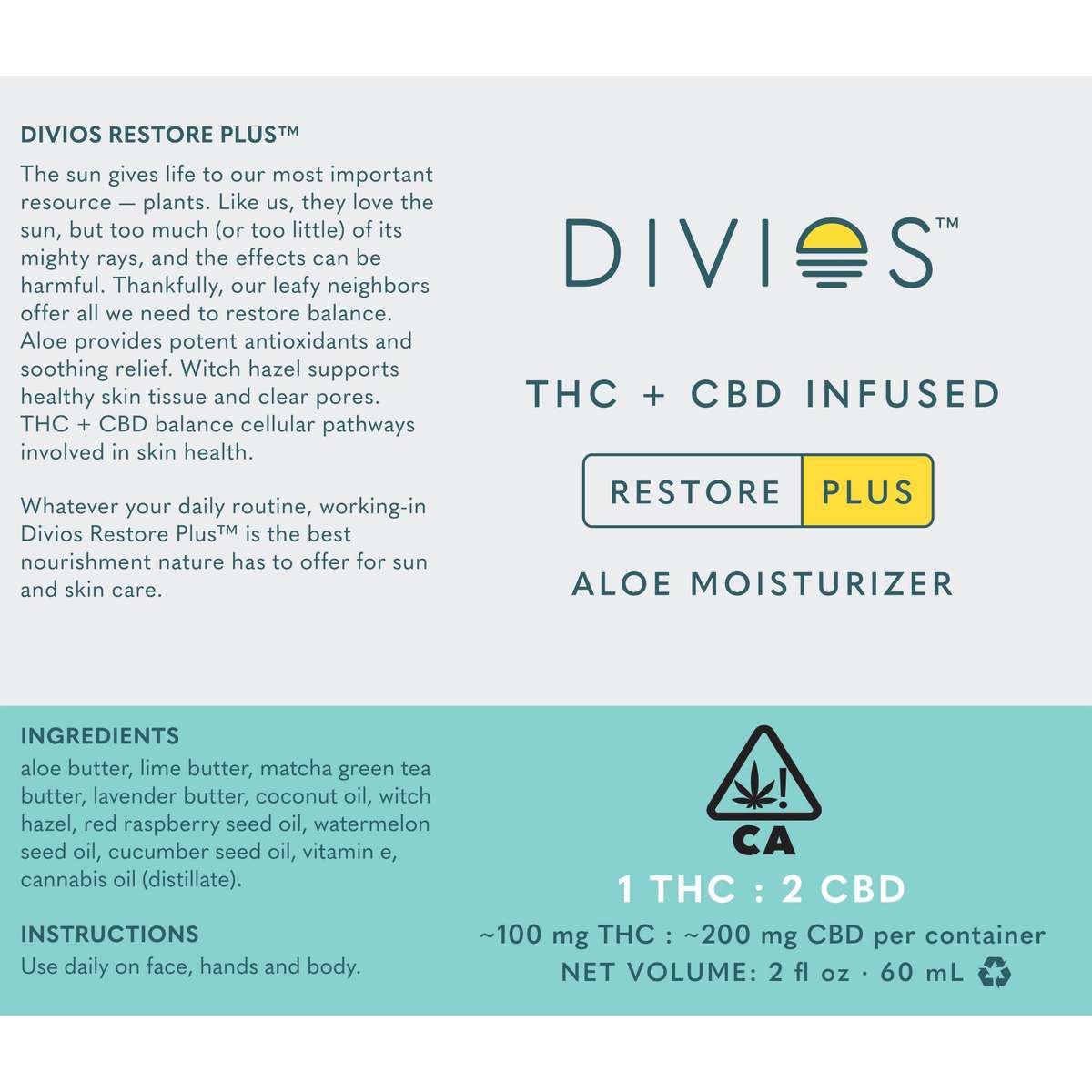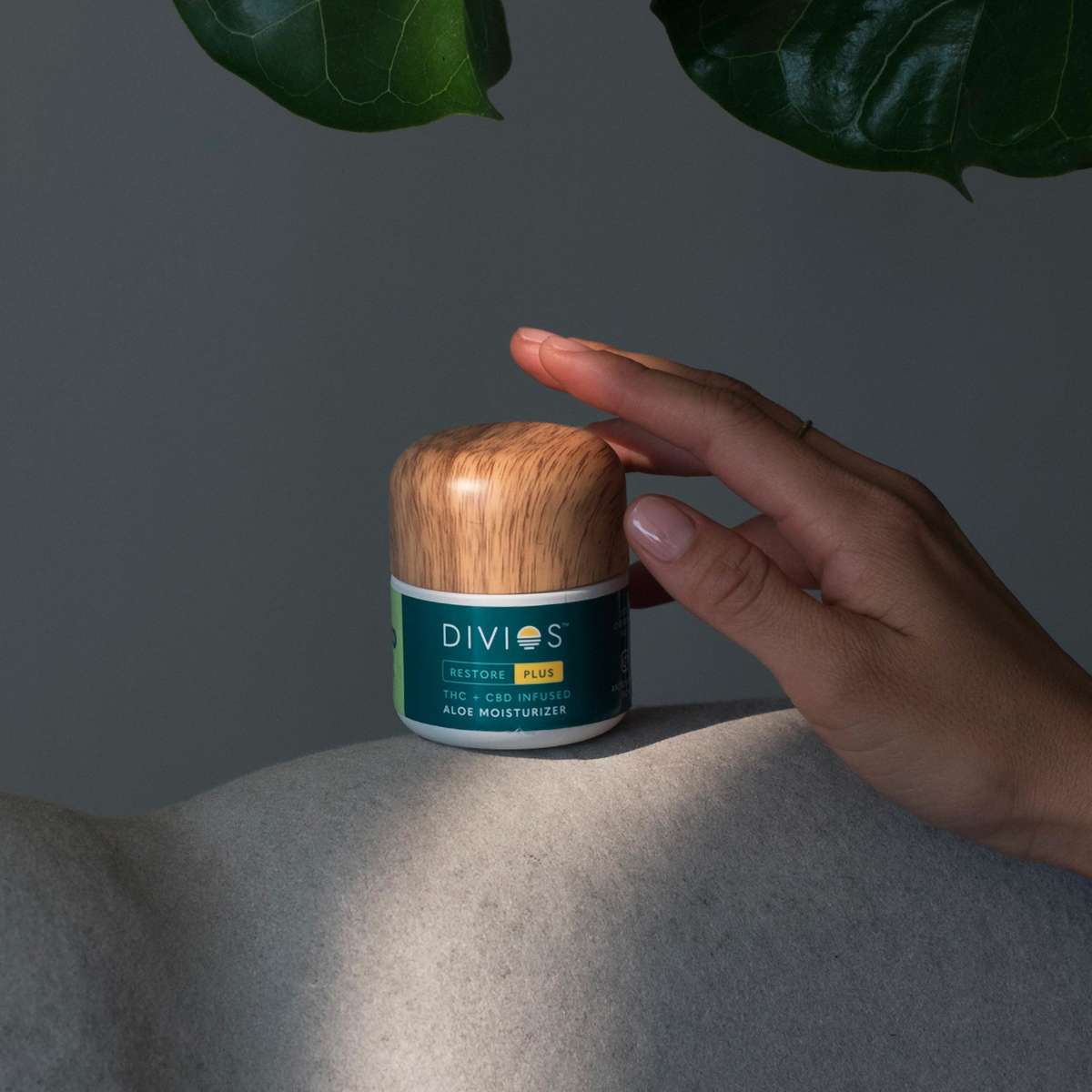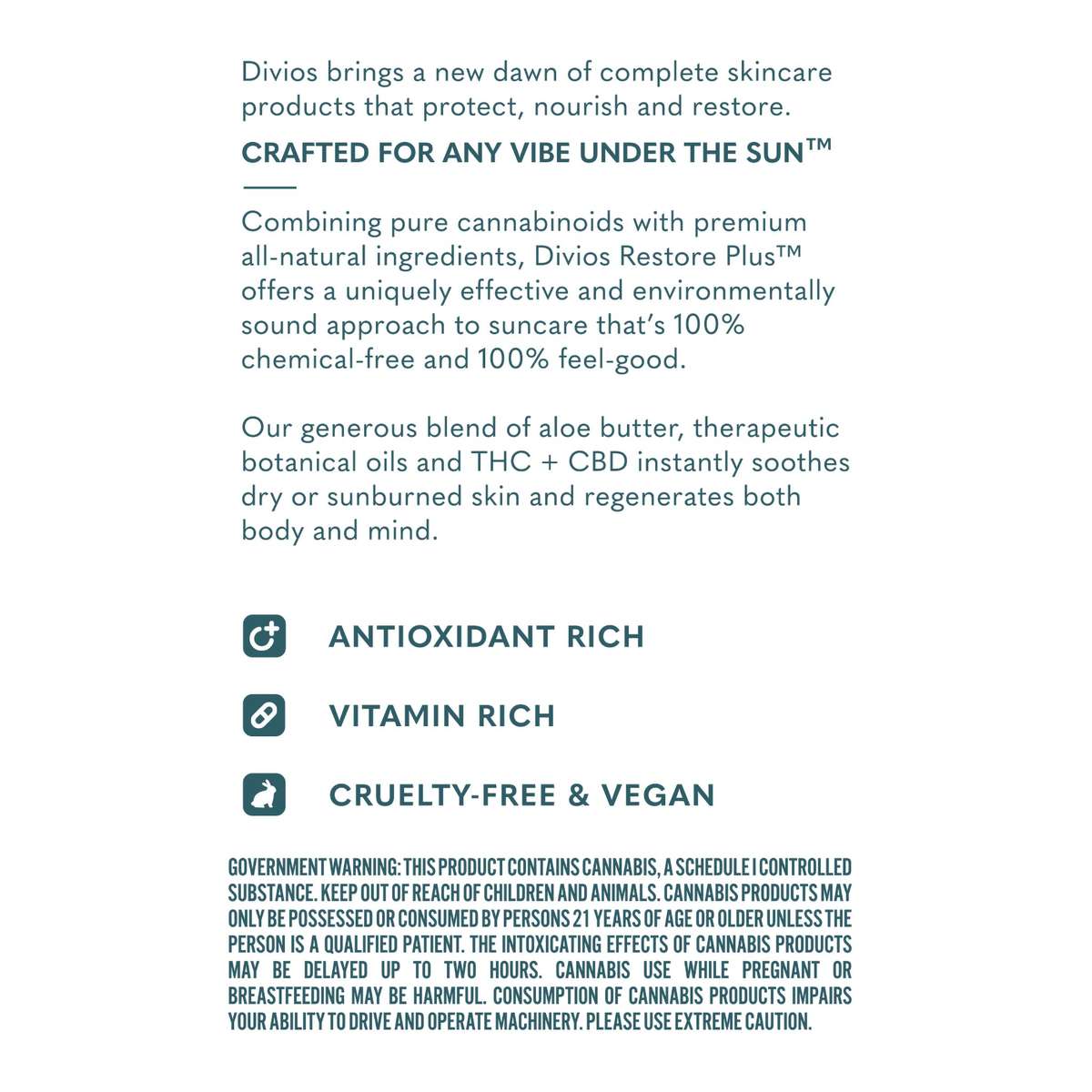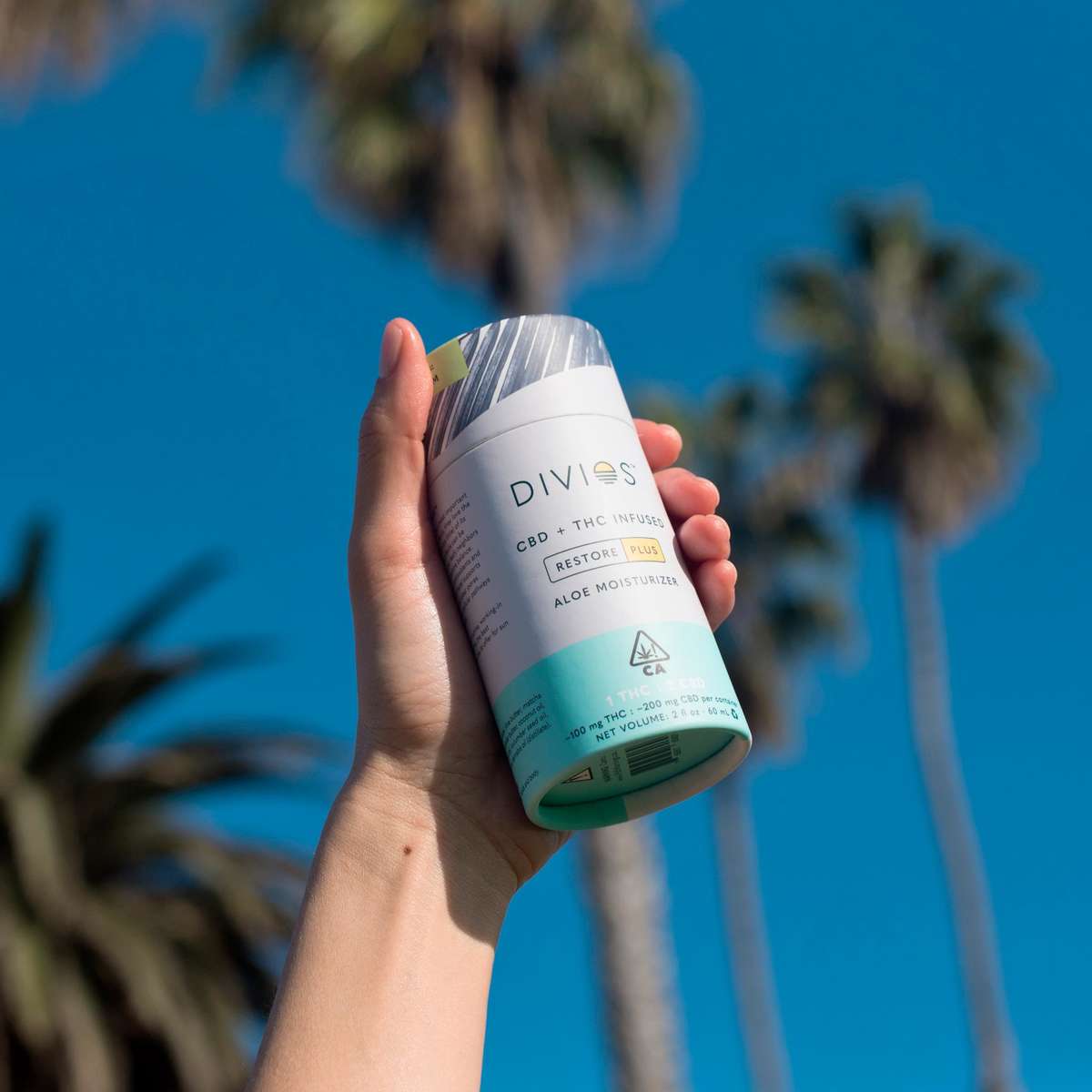 *
Not Sold Online. Only Available via Licensed Cannabis Dispensaries in California. Find a Store
Here
.


Divios Restore Plus™ All-Natural THC + CBD Aloe Moisturizer
Whatever your daily routine, working-in Divios Restore Plus™ is the best nourishment nature has to offer for sun and skin care. Our generous blend of aloe butter, therapeutic botanical oils and THC + CBD instantly soothes dry or sunburned skin and regenerates both body and mind.

REVIVE IN THE SHADE


All-Natural | 100% Chemical-Free (Non-Toxic) | Certified Organic Ingredients
Antioxidant Rich
Vitamin Rich
Vegan | Cruelty-Free
Ingredients: Aloe Butter, Witch Hazel, Lime Butter, Matcha Green Tea Butter, Lavender Butter, Red Raspberry Seed Oil (Organic), Cucumber Seed Oil (Organic), Watermelon Seed Oil (Organic), Vitamin E, Cannabis Distillate
100 mg pure THC | 200 mg pure CBD (300 mg. Total Cannabinoids)
Non-Psychoactive (You will not "get high" from applying to your skin)
Find In Store
ELEVATING TOPICALS
Relief, Beauty, and Care
Our mission is to create all-natural, multifunctional sun and skincare products. So we designed Restore Plus™ to be as therapeutically effective as a medicinal cannabis salve/balm but as inviting and practical as your favorite body moisturizer or daily facial toner.

NATURAL INGREDIENT BENEFITS
Our generous blend of aloe butter, hydrating botanical oils and pure THC + CBD instantly soothes dry or damaged skin and regenerates both body and mind. Thanks to our 100% Chemical-Free, All-Natural ingredients, the benefits of Divios Restore Plus™ include anti-bacterial, anti-irritancy, and anti-acne properties as well as:
ANTI-INFLAMMATORY
Our primary ingredient, Aloe Butter, improves blood flow and encourages new skin cells to form in any damaged areas thanks to its essential nutrients that nourish new tissue.
AROMATHERAPUTIC
Lime Butter is derived from Lime Peel oil and is obtained by cold pressing of Lime Peel. Thanks to its essential scent, lime peel oil can relieve stress and anxiety through its aromatherapy action.
ANTI-AGING
In addition to Witch Hazel, Match Green Tea Butter, Watermelon Seed Oil, our Cucumber Seed Oil is specifically designed to restore moisture balance and improve skin elasticity.
100% CHEMICAL-FREE
Made with Divios™ Botanicals
From Witch Hazel, a natural astringent that clears oil from skin to Match Green Tea, which provides natural anti-immflamatory, anti-cellulite and anti-irritancy effects, our Restore Plus™ blend of premium, thoughtful ingredient is the natural and restorative care your skin has been craving.
See Our Ingredients